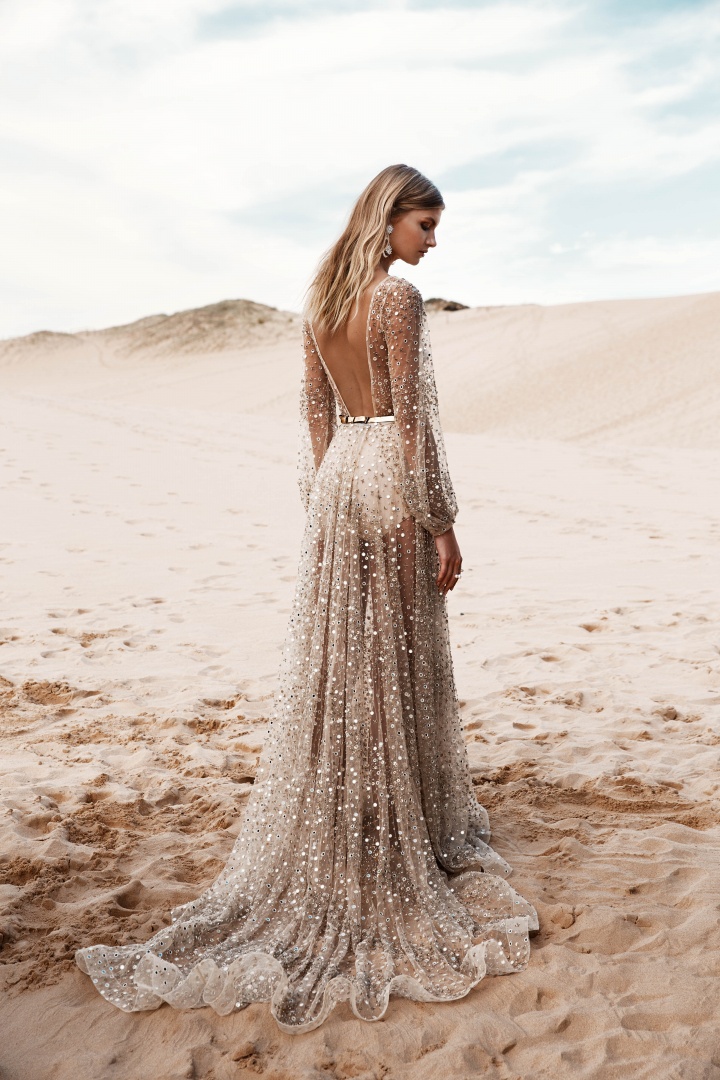 Shopping
Appointments are necessary in order to give you the full attention of our experienced consultants.
Bridal gown appointments are 1.5 hours. During sample sales, the appointments are one hour. Accessory appointments are 30 minutes.
Bring 1 or 2 respected family members or friends whose opinion you value and who knows you well and with whom you want to share the experience of buying your gown. Bringing more than 3 others can take the focus off of you.
As for what to bring, bring pictures of dresses you've seen on our website, in magazines, on websites/blogs, or that you've tried on elsewhere. And bring an open mind: don't be surprised if you find "the dress" on your first visit to Bloomfeld.
We do not allow (video)cameras in the fitting rooms while you are shopping. Once you have purchased a dress, you may take as many pictures as you'd like.
Appointments are required for accessories as well.
All designers that we represent can't be found at any other stores in at least the Benelux (Belgium, The Netherlands and Luxembourg).
It's best to allow 8-10 months before your wedding to order a gown.
Buying
It's best to allow 8-10 months before your wedding to order a gown.
Most of the gowns we sell are special-order. A special-order gown is made specifically for you by a designer, based on the measurements we take from you, the designer then uses their pattern that is closest to your measurements to create your gown. We then fit it to perfection for your body.
Your gown typically arrives 8-10 weeks before your wedding date. The dress is delivered to us directly from the designer and we perform a thorough quality control check on each gown.
Once we are satisfied the gown is perfect, we'll call you to schedule a first fitting, arrange shipping and final payment.
We accept MasterCard, Visa, debitcards, as well as cash.
If you are ordering a special-order gown, we require a 50% deposit at the time you order your gown. When the gown arrives at Bloomfeld and passes our quality control check, we'll contact you to let you know and to schedule a fitting. When you're all satisfied and about the take the dress with you after the fittings, we require payment of the remaining 50% balance.
If you are buying a sample gown off the rack, we require 100% payment and you must take the dress home with you that day.
If you've requested that we ship your gown, your balance must be paid for in full before it can be shipped.
Most designers provide us with swatches from all fabrics so you can take the swatch with you directly when ordered. If it happens that you swatch is not on stock, we will request new swatches from the designer.
Prices are available in-store.
Fitting
We'll contact you when your dress is in and ready for you to schedule a fitting; generally, that will be about 4-6 weeks before your wedding day.
Bloomfeld has an in-store alteration studio with the best seamstresses.
You should bring the shoes and undergarments you'll wear on your wedding day in order to have your gown properly fit through the bodice and hemline.
Usually, brides require 2-3 fittings to ensure a perfect look. After the final fitting, we will press and pack your gown for you to take home or for shipping.